Wow, it's been a while since I last posted! I hope everyone had very happy holidays so far and were able to spend lots of quality time with family. I hope to get some pictures of our Christmas decor up soon, as I went more "all out" than I ever have!
I do have to say, we have been super busy since Thanksgiving, trying to wrap up a bunch of little projects before Christmas. I am happy to say that we completed each one of them, and while I will share those with you in a bit, first I want to do a "brain dump" of all the things I am thinking about for the nursery.
I am now allowing myself to think about getting that room prepared for our little princess. Mom hauled out the rocker we will be using when she visited this past week, and I finally have the motivation back to continue working on the dresser. So without further adieu, here are my thoughts for "Princess Freeman's Vintage Baby Animal Nursery."
The Wall Color
I used a little bit of forethought when I painted this room last summer. With it being the smallest bedroom, I knew it'd be the nursery. I went with a pale, almost a buttery, yellow. The name of the color is
Yellow Springs
by Dutch Boy.
The Furniture
As a reminder, here are the dresser/changing table and rocker we are going with:
The dresser is about half done. I had quite the debacle with that, which I'll chronicle once all is done. I decided to go with a pale, champagne pink called
Composed Bloom
by Dutch Boy. Its the middle color on the palate that will pull up. I picked up the knobs at Hobby Lobby and they are an antique style glass knob.
So far, I love it! The chair is going to go white and I think I'll keep the champagne color upholstery. It's old, but charming, and in really good shape!
We finally made a decision on the crib. At first I really wanted to go with a Jenny Lind, but for some reason, I just couldn't pull the trigger. Andy wasn't all that thrilled with it, so I kept searching. I am so glad I did! We decided on the
Europa Baby Geneva
crib:
Photo Courtesy of Toys R Us/Babies R Us
Here's what I love about it: The front and back feet mimic the dresser. Its not an exact match, but they both have spindle feet in front and block feet in the back. Here's what else I love...the slight curves, yet it is very clean and simple. I also love the subtle details of the pillars in the front, the thick railing, and the fact that the screw holes are on the sides and back. It's also made of hardwood with a non-toxic finish. And, this might be the best part, it was a steal! Walmart had the most competitive price at $159.99 with free site to store shipping. Most other sites were at $199.99 at least, plus shipping. It's already shipped and should be here sometime next week. Can.Not.Wait to see it in person!
Here's what I have yet to make a firm decision on...the mattress. Any experienced parents out there that can offer some suggestions?
The Bedding
I am lucky enough to have a sewing family, so Mom is making the quilt. I just ordered the fabric this weekend, and will be going with a jelly roll style quilt. If you aren't familiar with jelly rolls, they are coordinating fabrics, cut into strips. Can't wait to see and to show you the finished product, but for now, here is the fabric we settled on:
Photo Courtesy of Around The Block Quilters Shop
I'm thinking I will accent with cream or white colored sheets and bumper pad and curtains, whatever ends up looking best when all is said and done!
The Details
I am going with a baby animal theme, as we are both big animal lovers, and who doesn't love a cute baby animal? I ordered a book called
The Book of Baby Pets
, which is a very old, out of print book from the UK that has lovely
watercolor baby animal prints
.
The original plan was to frame the plates, but I think I can get some of the prints through Costco's Art Print Center for a very reasonable price, since the more I think about it, the more I hate to take apart such a beautiful book. It has stories about each of the animals, and I think the coolest part is that there are two inscriptions inside the cover from each time it was gifted.
Today, I stopped by a second hand store that is a associated with a senior center, so they have a tendency to have lots of good, antique stuff, and surprisingly, have a good amount of baby stuff. I was thrilled to snag this antique linen pillowcase cover and sheet for only $5:
They are a very pale pink with white crocheting on the edge and then two little scotty dogs embroidered on the pillow flap. I'll keep the pillowcase as is and use it with the chair. I am thinking I might convert the sheet into a very simple, lightweight quilt with ties.
For the side table, I am thinking this glass lamp in pink:
Photo Courtesy of Ikea
And for the ceiling light, I'd love to do a vintage style chandelier. I have found a couple affordable options: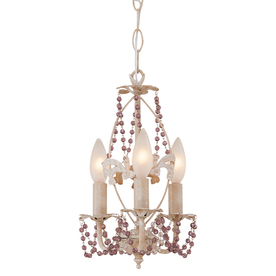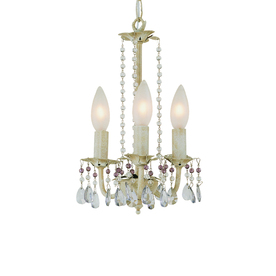 Chandelier Photos Courtesy of Lowe's
Just tell me what little girl's vintage nursery wouldn't look great with one of these, or something similar?
What's Left
I still need to make a decision on a rug. I'd like to go with a handmade circular rag rug. There are some super sweet ones on Etsy, made out of old sheets and are crocheted together. What I like about those is that they are machine washable, they have character, and they would play into the vintage/shabby chic look I am going for. My other option is a lightly patterned wool rug.
As I mentioned above, I still need to decide on sheets, bumper pad, crib skirt, and curtains. I am going to wait and see what will look best with the quilt. I also need to figure out a low profile table to use next to the rocker.
There's lots of little details too that I won't be showing until the grand reveal or until she's here (like her name). I gotta keep you coming back somehow, don't I?
So what do you think of my Vintage Baby Animal nursery? I am curious to hear what you think of the chandelier, and also would love your suggestions on a mattress. Man, there are a lot of options out there!